Monochloroacetic acid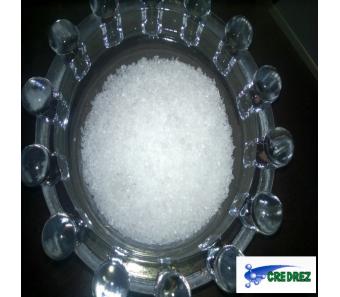 PDF: Not
With irritant smell,Monochloroacetic acid,industrially also known as Chloroacetic Acid,MCA or MCAA, is a colorless or slight yellow crystalline carboxylic acid which is produced by chlorination of Acetic Acid or Hydrolysis of Trichloroethylene using Sulfuric Acid and is highly soluble in water and organic solvents. Monochloroacetic Acid is mainly used in manufacturing a variety of products including carboxymethyl cellulose, herbicides, pharmaceuticals,dyes,cosmetics,plastic stabilizers,anesthetics,tranquilizers and amphoteric surfactants as one of the fine chemical intermediates.

Chemical Name: Monochloroacetic Acid
Chemical Synonyms:MCA,MCAA,Chloroethanoic acid,Monochloroacetic acid,Chloroacetic Acid
Chemical Family:halocarboxylic acid
Formula:C2H3ClO2
Structural Formula:ClCH2COOH
Grades Available: MCAA 97.5%,MCAA 98%
CAS NO.: 79-11-8
Industrial Standard: HG/T3271-2000
Specifications of the Monochloroacetic acid

Items

Specifications

Superior grade

First grade

Qualified grade

Appearance

Colorless or slightly yellow crystalline

Chloroacetic Acid content

%

99.0 min

98.0 min

97.50 min

Dichloroacetic Acid content

%

0.50 max

1.0 max

1.50 max

Acetic Acid content

%

0.50 max

0.50 max

1.0 max

Crystallization

oC

60 min

60 min

60 min
Package: Monochloroacetic acid is available both in 25 kg or 50 kg Plastic PE film-lined and PP woven bag

.